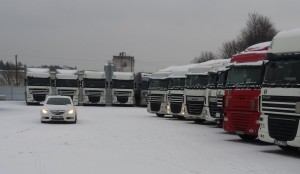 JSC "Dirvintos" transportas registered and started business in year 1997 . The Company's fleet consisted of 4 trucks with 4 tilt trailers and 10 employees.
Since business start, company has grown and expand. At present day, JSC "Dirvintos" transportas`s fleet consists of 21 truck unit and 17 tautliners, employs 44 workers.
Providing quality freight services ensure:
Qualified and experienced drivers;
Professional and responsible managers;
Regularly fleet renewal;
Cargo security is guaranteed with civil liability insurance in accordance with CMR and TIR conventions;
JSC "Dirvintos" transportas since its business start are Lithuanian National Road Carrier`s Association (LINAVA) member.